I baked pies for a few months. Mommy helped, since fruit juice stains bear fur. Anyone, who has ever baked a pie, knows slits have to be made in the crust or the steam has no way of escaping. The first few pies, I slit like normal, but that got boring and I'm a very artistic bear. I decided to make art on the pie crusts. Here are my temporary works of art.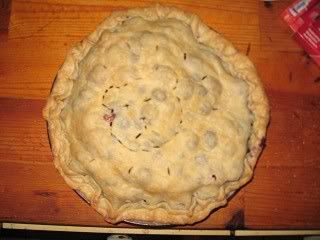 First, I did a self-portrait on a blueberry pie, but this represents all the bears in the family.
Well, if you're making a self-portrait, it's just polite to draw family members next, so I drew a doggy on the next strawberry-rhubarb pie to represent my wife Lady, my daughter Dee, and Lady's dad Axlerod. (Okay, not so much Axlerod, because he's a basset hound, and I was drawing spaniels, but we must keep the in-laws happy too, so I included him.)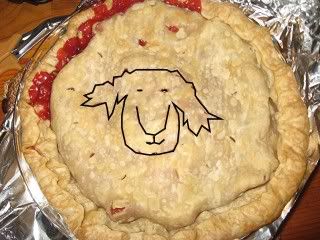 I know. Pie art is hard to see, so I've drawn the outline on it, so you can see it better.
Well, if you know anything about Teddy's wife, Valentine, you know she likes to be included. (I'm not saying she's pushy. I'm not stupid.) So, this peach pie has a bunny rabbit on it.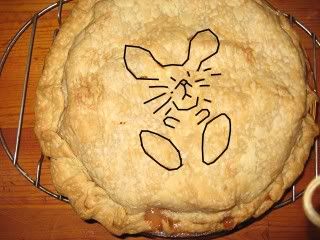 Again. Sometimes hard to see, so here's the outline.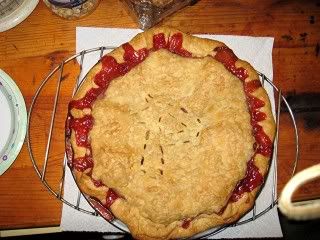 Then our baseball team, The Phillies, were doing very well, so I drew a Phillies logo on the strawberry pie.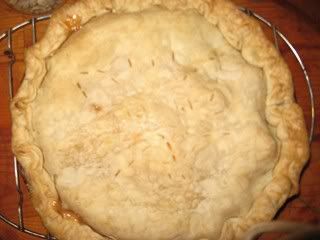 That upset the two cats in the family - Tee, Teddy and Valentine's son, and Lee, Phil's wife - so I drew a cat on the peach piecrust.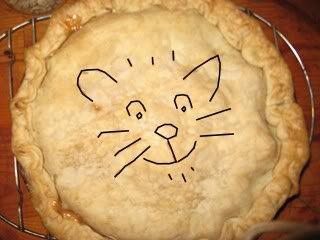 And, that's hard to see, so here is the outline again.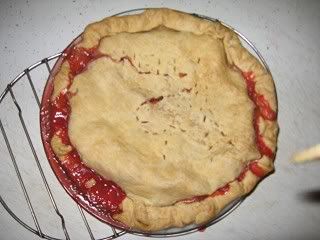 Which left one more family member, who needed her portrait done. I know we haven't introduced her, but we have a stick pony in the family now. Do you remember the horsey's with a stick, instead of a body? Kids used to climb on the stick and gallop around on their ponies. Santa gave us our own pony last year, but she became part of the family. Her name is Nelly, as in "Whoa, Nelly!" Here's her portrait. (To make up for forgetting her so long, I wrote her name on top of the strawberry pie, too. She liked it.) I think it came out clear enough. What do you think? If you can't see it very well, maybe I'll outline another time. She's looking left, if that helps.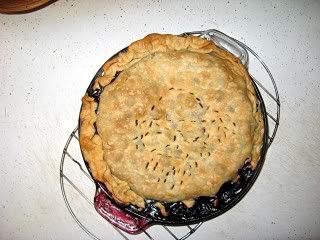 About this time, Bob T. Bear alerted us it was Talk-Like-a-Pirate Day. I made a pirate to celebrate, but Mommy couldn't help me post, so it's a bit late. Yeah, this one really does need to be outlined.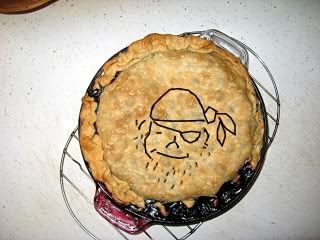 Here's the outline, but I think his beard came out right, so I didn't fill in all those lines, too.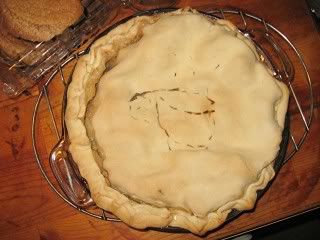 And, what goes better with pie than a cup of coffee? Mommy doesn't drink coffee, so she forgets how much we need coffee. This was a gentle hint about our need. Do you think it's the perfect artwork for our first apple pie of the year?
I have to admit, I wasn't thrilled with pumpkin pie for Thanksgiving. I mean I love pumpkin pie, but no piecrust on top to draw on. Oh well. We're done making pies until Christmas. Hope you liked my artwork. I hope the new medium catches on.